(Originally published in SCHMETZ Inspired to SEW #87, March 2021. Written by Rita Farro.)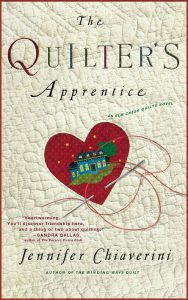 If you love to sew, you will never be bored. For many of us, sewing kept us sane during this past year of fear and isolation. It gave us a sense of purpose and accomplishment. Kudos to us for using our considerable skills to bridge the PPE gap. With our machines, all warmed up, and strict orders to STAY HOME, many of us just kept on sewing. We brought out our UFOs, we made new curtains for the kitchen, or we tackled that big quilt project we have been planning. The lesson we have learned is that sewing is more than just a wonderful hobby, it actually can be a super-power.
If you need to take a break from your machine, you might consider picking up a good book, with sewing as a central theme. There are many wonderful choices! Of course, if we are going to write about books with sewing as a central theme, we must start with the master class that is Jennifer Chiaverini, the creator of the beloved Elm Creek Quilt series.
Jennifer Chiaverini brings history alive through her characters and their love of quilts. Every one of her books is meant to be a stand-alone novel, rich with history, and character development. You do not need to read her books in order. But, if you have not yet visited Waterford, Pennsylvania, you might want to read The Quilter's Apprentice first. It will introduce you to Sylvia, Sarah, and the Elm Creek Quilters. Ms. Chiaverini is a gifted storyteller with a special gift for transporting you to a time in history you did not even know you were curious about. Every book is a page-turner.
CLICK HERE to read the full story.