(Originally published in SCHMETZ Inspired to SEW #3, March 2014. Written by Rita Farro.)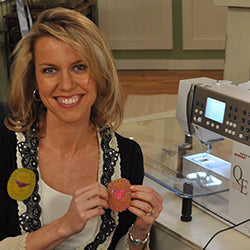 Pokey Bolton burst onto the quilting scene in 1998.  Art quilting and mixed-media literally took over her life — so much so that she left her doctoral program and full-time teaching job to found Quilting Arts Magazine®. Pokey is the author of The Quilting Arts Book: Techniques and Inspiration for Creating One-of-a-Kind Quilts, The Best of Quilting Arts, and 1,000 Artist Trading Cards: Innovative and Inspired Mixed Media ATCs.
Pokey is now the Chief Creative Officer for Quilts, Inc. in Houston, Texas. She is also the founding host of "Quilting Arts TV" on PBS, and when she isn't working, she can be found in her studio at home — her absolute favorite place to be!
People often ask her why she is called Pokey, especially since she is known for having such a high-energy approach to life. She says, "Believe it or not — my middle name is Pocahontas, a name that has been passed down through generations in my family. Even though I don't look it, I am a descendant and hence Pokey."
After taking the job with Quilts, Inc., Pokey became aware that homeless pets were a huge issue in Houston. By combining her love of animals and her passion for art quilting — Pokey came up with a creative fundraising project — Quilt Festival's Pet Project — one of the most remarkable and successful charity projects in the quilting industry.
Pokey did some research and found Friends For Life, Houston's only no-kill shelter. Friends For Life takes in the pets, makes sure they are healthy, trains them, and then, through a robust fostering program, matches them with their forever families.
She asked quilters to make a 4×6 postcard, which would be sold for $20 at the Fall Quilt Festival.  In 2012, they raised an amazing $21,000 for the shelter.
At the 2013 Quilt Festival, more than 1400 quilters from all over the world sent in postcards!!
Pokey writes:  The $40,000 (+) is twice the amount of funds raised from last year's edition of Quilt Festival's Pet Project, so if I do my math correctly based on last year's amounts, it means that the money will approximately:
•    Vaccinate 8,000 cats
•    Vaccinate 10,500 dogs
•    Neuter about 700 tomcats
•    Provide heartworm treatment for 100 dogs
•    Provide 2000 Project WARM feral cat shelters for distribution to colonies all over Houston.
It will also help dogs who otherwise would have been euthanized to heal and find forever homes . . . .
CLICK HERE to read the full story.