(Originally published in SCHMETZ Inspired to SEW #90, June 2021. Written by Rita Farro.)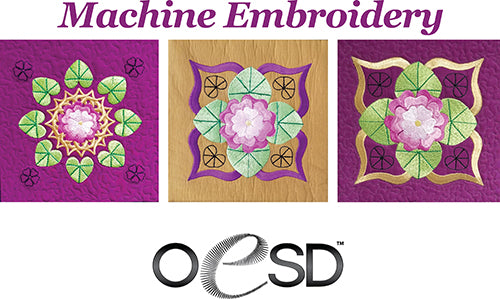 The evolution of machine embroidery for the home sewer has been mind-boggling. In the 1980s, some sewing machine companies added lettering to their decorative stitches. The machine companies started to attach hoops to their machines in the 1990s, and in the early 2000s, sewing machines started to hook up to Windows Operating Systems.
In the beginning, the concept of machine embroidery was brand new to the sewing machine dealers who were selling the machines, so the home embroiderer was pretty much left to figure things out on her own. It was the early days of the internet, long before Facebook, YouTube, or Craftsy. Remember chat rooms and Yahoo message boards? That is where they came to learn this new art form. Through an awkward time of dial-up internet connections, and long downloading times, these pioneer machine embroiderers were eager to share what they were learning.
In those early days, the sewing machine companies created machines that were capable of embroidering, but the design choices were limited to the cards the machine companies were selling. Each company had its own system. Bernina had their own system, Viking cards only worked in Viking machines, Brother cards only worked in Brother machines, etc. A card with ten butterfly designs might cost $80.
The second revolution in machine embroidery for the home sewer came about when independent companies cracked the code and started to create designs that would work with ALL machine formats. Cactus Punch was one of the first companies to come to the market with ecumenical design packs that would work with every machine format.
Oklahoma Embroidery Supply & Design (OESD)
Oklahoma Embroidery Supply & Design (OESD) is one of those heritage companies that has survived the ups and downs of the market. Now celebrating their 31st year in business, they are enjoying a super-strong resurgence. Their motto is YOUR CRAFT IS OUR PASSION. OESD is an industry-leading creator of machine embroidery designs and embroidery products. Their designs work for all makes and models of embroidery machines. Their 40,000 strong, superior design library is available online at Embroidery Online and Scissortail Stitches.
Karie Coffey is the Director of Marketing and Education for OESD. After getting her fine arts degree, she kind of fell into the embroidery world, working in commercial embroidery production for LL Bean. She spent ten years as a general manager for a top sewing machine dealer in Buffalo, New York. She relocated to the Midwest for the job at OESD.
OESD has been responding to the wants and needs of home embroiderers for over 30 years. Karie says, Our digitizing is all done in-house, right here in Oklahoma. Some of our digitizers have been here for over 20 years. We do about eight collections a month. Many of our designs are classic, but we work hard to pay attention to the trends, too. We are able to respond or pivot quickly. Our events are all planned in-house as well, and our event team travels all over the country. We listen to our customers, and what our dealers want, so we are not getting rid of physical media. We are committed to continuing to deliver designs in all three formats, CDs, USBs, or digital.
OESD has worked hard to develop and maintain a relationship with brick and mortar retail stores. Karie says, Our retailers are so important to us. For example, the OECD's SPREE Club (Special Pricing Reserved for Embroidery Enthusiasts) is a special embroidery design savings club offered to OESD event attendees. Members get the newest exciting embroidery designs from OESD & Scissortail Stitches delivered directly to their local store each month on a ready-to-use USB stick.
OESD is a leader in developing 3-D embroidery designs. Karie says, Right now, in the hoop projects are very popular. Especially with the newer embroiderers. They like to have a finished thing. They can create a zipper bag or a stitch and turn doll. They enjoy having a complete project.
Oklahoma Embroidery Supply & Design